I have been a production potter for over 40 years.
I have also been a teacher at Bellevue College and Whitworth College in Washington and I have worked at a dinnerware company making and firing pottery and worked at a brick company in their research department  designing and testing clay and glaze products. My production work has sometimes been part-time and sometimes full-time, but I have consistently been making pottery since 1971. During the 70's, 80's and 90's I sold in galleries and street fairs throughout the Northwest as well as my studio in Woodinville,  Washington.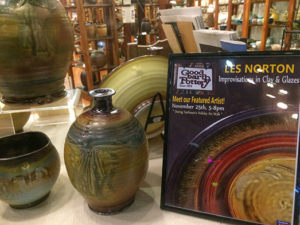 Good Earth Pottery Gallery
In November 2016 I was the featured artist at the Good Earth Pottery Gallery in Fairhaven Washington and on October 12th, 2017 donated 180 bowls to the "Empty Bowl" project to raise money for the food bank in Lake Stevens Washington. These last two events have inspired me to work even harder on my pottery and as part of that process I thought I should update my website to reflect this inspiration.
People who already know me might have noticed is that I have changed the name from ThePottery.com to NortonPottery.com. (Note: ThePottery.com will still get you to my website) There is the obvious reason I am doing this in that Norton is my last name, but the reason as to why I didn't do this years ago is an interesting story about domain names.
Right from the beginning of the internet I wanted a website where I could show my work and connect with people that might be interested in what I was doing. Back in the 80's I tried to get the domain NortonPottery.com but somebody had already taken it, so I needed to go in a different direction. Since NortonPottery.com was not available I figured that Pottery.com was surely taken, but to my surprise, it was not. At the time it was very expensive to get a domain name so I decided to think about it for a couple of days. But while I was thinking about it someone else got the name. The most frustrating thing about this is, that after all these years the person that got the name has never used it as a pottery website. If you go to that domain today you will see that they are trying to lease it. However ThePottery.com was available back then and I did purchase it. I have used that name for my website and my business all these years.
Just for grins, a few months ago I was thinking about all this and so decided to see if anyone was still using NortonPottery.com and to my surprise it was available. I didn't hesitate and grabbed it, thinking that when I have the time I could develop it like I had wanted so many years ago.
So here we go… A New Site for a New Beginning
Les